China's credit market offers the cheapest money ever if you can get it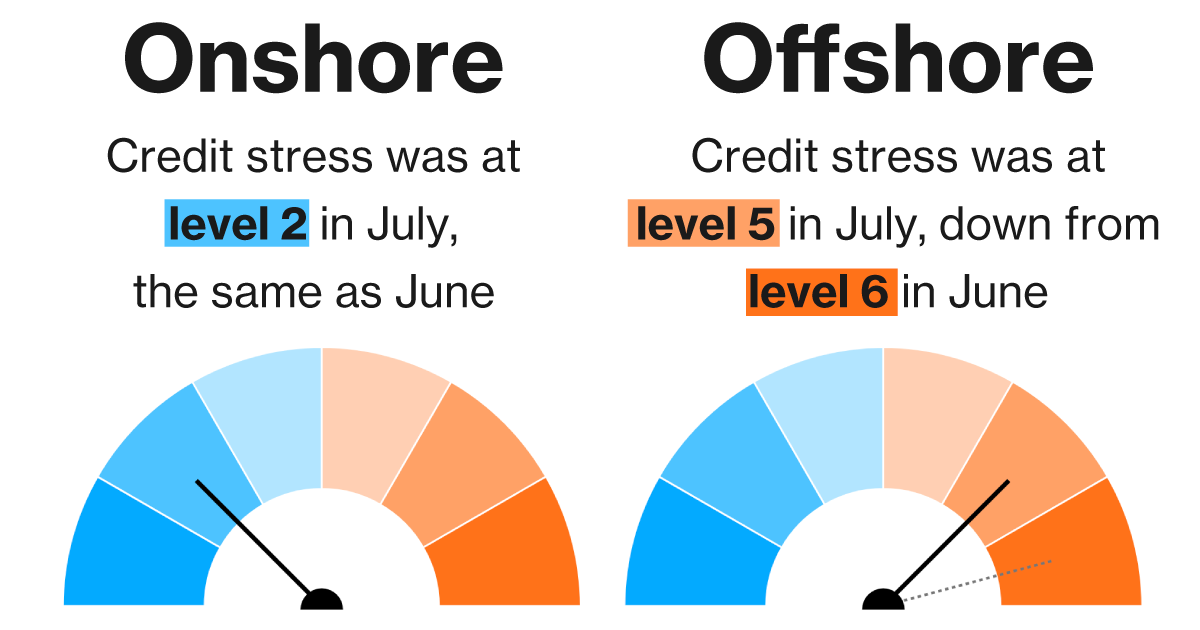 China's $12.4 trillion local credit market is awash with cheap money, but a growing number of weaker borrowers are struggling to get it.
A spiraling housing debt crisis and the fallout from Covid lockdowns prompted policymakers to pump money into the financial system to support the economy. This has driven local benchmark yields on AAA-rated 3-year corporate bonds to record highs relative to government debt, according to data dating back to 2006.
All that cash helped ease stress in the onshore bond market in July, according to Bloomberg's China Credit Tracker. China's central bank cut a key interest rate on Monday to boost growth in a slowing economy, which should further lower local financing costs. The amount of defaults this year in the local market has fallen by 75%, as the most struggling builders avoided official defaults by extending debt terms.
But the challenges are mounting for private sector real estate companies and other borrowers that investors deem too risky. According to data compiled by Bloomberg, only 28 units held by China's top 50 developers through contracted home sales managed to issue yuan notes this year, down 38% from the same period in 2021. major builders such as China Evergrande Group, Shanghai Shimao Co. and Yango Group Co. were shut out of the market after payment defaults.
"Developers will continue to face challenges until further steps are taken to allow liquidity to flow more easily through the sector," said Henry Loh, head of Asia credit at asset manager Abrdn Plc.
A mortgage boycott involving stalled construction sites from cash-strapped builders escalated last month into protests involving more than 320 projects in about 100 cities, adding to potential systemic risk. Policymakers are considering a plan to seize undeveloped land from struggling businesses to fund the completion of unfinished housing. Home delivery has long been a top priority, but spending the dwindling cash on construction risks triggering further bond defaults.
Dive into Bloomberg's China Credit Tracker methodology
All of this has kept stress high in China's $870 billion offshore debt market, where property companies are the biggest issuers of junk bonds. High-yield dollar notes suffered the biggest loss in July since February, and average prices have fallen further recently to record lows, amid a slew of defaults and debt extensions.
Offshore creditors are increasingly uncertain of how much money they could recover from defaulting borrowers. Anxiety spread after Evergrande failed to deliver a preliminary restructuring plan it had long promised by the end of July and which many hoped would provide a blueprint for other developers. defaulters.
The median price of real estate bonds was around 16 cents to the dollar at the end of July, which could imply investor capitulation, according to Bloomberg Intelligence. Investors in the sector could face greater pressure to sell if more large funds reduce their exposure. These funds reduced their holdings by $5.2 billion to face value in the month ended July 27, according to data compiled by Bloomberg Intelligence.
Learn more about Bloomberg